Robert Mikesh Testimonial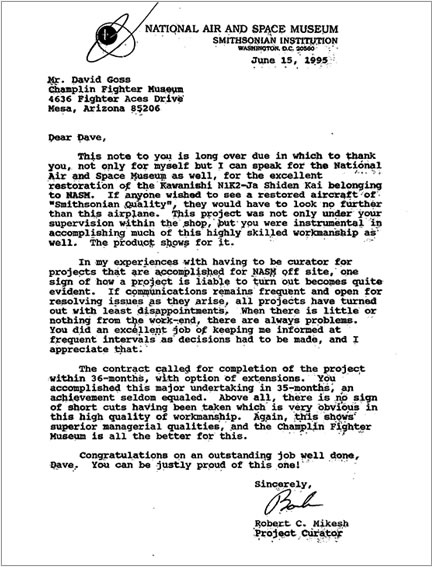 Robert Mikesh
Former Curator of the Smithsonian's National Air and Space Museum | Aviation Writer and Author | Retired Air Force Pilot
This note to you is long over due in which to thank you, not only for myself but I can speak for the National Air and Space Museum as well, for the excellent restoration of the Kawanishi N1K2-Ja Shiden Kai belonging to NASM. If anyone wished to see a restored aircraft of "Smithsonian Quality", they would have to look no further than this airplane. This project was not only under your supervision within the shop, but you were instrumental in accomplishing much of this highly skilled workmanship as well. The product shows for it.
In my experiences with having to be curator for projects that are accomplished for NASM off site, one sign of how a project is liable to turn out becomes quite evident. If communications remains frequent and open for resolving issues as they arise, all projects have turned out with least disappointments. When there is little or nothing from the work-end, there are always problems. You did an excellent job of keeping me informed at frequent intervals as decisions had to be made, and I appreciate that.
The contract called for completion of the project within 36-months, with option of extensions. You accomplished this major undertaking in 35-months, an achievement seldom equaled. Above all, there is no sign of short cuts having been taken which is very obvious in this high quality of workmanship. Again, this shows superior managerial qualities, and the Champlin Fighter Museum is all the better for this.
Congratulations on an outstanding job well done, Dave. You can be justly proud of this one!