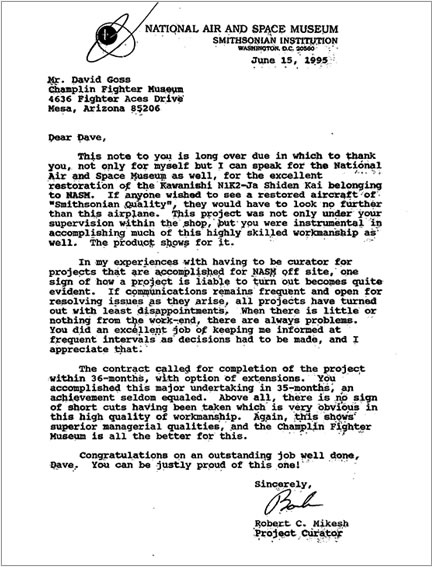 This note to you is long over due in which to thank you, not only for myself but I can speak for the National Air and Space Museum as well, for the excellent restoration of the Kawanishi N1K2-Ja Shiden Kai belonging to NASM. If anyone wished to see a restored aircraft of "Smithsonian Quality", they would have to look no further than this airplane. This project was not only under your supervision within the shop, but you were instrumental in accomplishing much of this highly skilled workmanship as well. The product shows for it.
In my experiences with having to be curator for projects that are accomplished for NASM off site, one sign of how a project is liable to turn out becomes quite evident. If communications remains frequent and open for resolving issues as they arise, all projects have turned out with least disappointments. When there is little or nothing from the work-end, there are always problems. You did an excellent job of keeping me informed at frequent intervals as decisions had to be made, and I appreciate that.
The contract called for completion of the project within 36-months, with option of extensions. You accomplished this major undertaking in 35-months, an achievement seldom equaled. Above all, there is no sign of short cuts having been taken which is very obvious in this high quality of workmanship. Again, this shows superior managerial qualities, and the Champlin Fighter Museum is all the better for this.
Congratulations on an outstanding job well done, Dave. You can be justly proud of this one!
Robert Mikesh
Former Curator of the Smithsonian's National Air and Space Museum | Aviation Writer and Author | Retired Air Force Pilot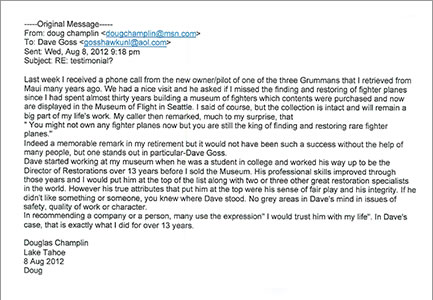 Last week I received a phone call from the new owner/pilot of one of the three Grummans that I retrieved from Maui many years ago. We had a nice visit and he asked if I missed the finding and restoring of fighter planes since I had spent almost thirty years building a museum of fighters which contents were purchased and now are displayed in the Museum of Flight in Seattle. I said of course, but the collection is intact and will remain a big part of my life's work. My caller then remarked, much to my surprise, that "You might not own any fighter planes now but you are still the king of finding and restoring rare fighter planes."
Indeed a memorable remark in my retirement but it would not have been such a success without the help of many people, but one stands out in particular-Dave Goss.
Dave started working at my museum when he was a student in college and worked his way up to be the Director of Restorations over 13 years before I sold the Museum. His professional skills improved through those years and I would put him at the top of the list along with two or three other great restoration specialists in the world. However his true attributes that put him at the top were his sense of fair play and his integrity. If he didn't like something or someone, you knew where Dave stood. No grey areas in Dave's mind in issues of safety, quality of work or character.
In recommending a company or a person, many use the expression "I would trust him with my life". In Dave's case, that is exactly what I did for over 13 years.
Doug Champlin
Pilot and Warbird Owner | Owner of the Champlin Fighter Museum | Aviation Entrepreneur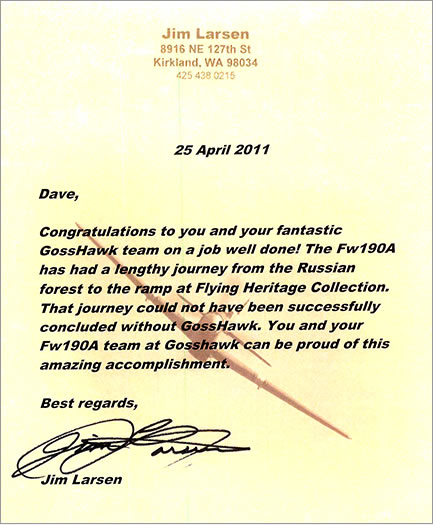 Congratulations to you and your fantastic GossHawk team on a job well done! The Fw190A has had a lengthy journey from the Russian forest to the ramp at Flying Heritage Collection. That journey could not have been successfully concluded without GossHawk. You and your Fw190A team at GossHawk can be proud of this amazing accomplishment.
Jim Larsen
World Renowned Aviation Photographer and Writer | Aeronautical Engineer | President of AeroAcoustics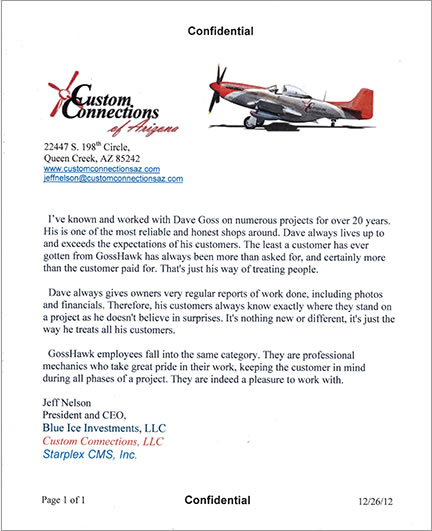 I've known and worked with Dave Goss on numerous projects for over 20 years. His is one of the most reliable and honest shops around. Dave always lives up to and exceeds the expectations of his customers. The least a customer has ever gotten from GossHawk has always been more than asked for, and certainly more than the customer paid for. That's just his way of treating people.
Dave always gives owners very regular reports of work done, including photos and financials. Therefore, his customers always know exactly where they stand on a project as he doesn't believe in surprises. It's nothing new or different, it's just the way he treats all his customers.
GossHawk employees fall into the same category. They are professional mechanics who take great pride in their work, keeping the customer in mind during all phases of a project. They are indeed a pleasure to work with.
Jeff Nelson
President and CEO | Custom Connections, LLC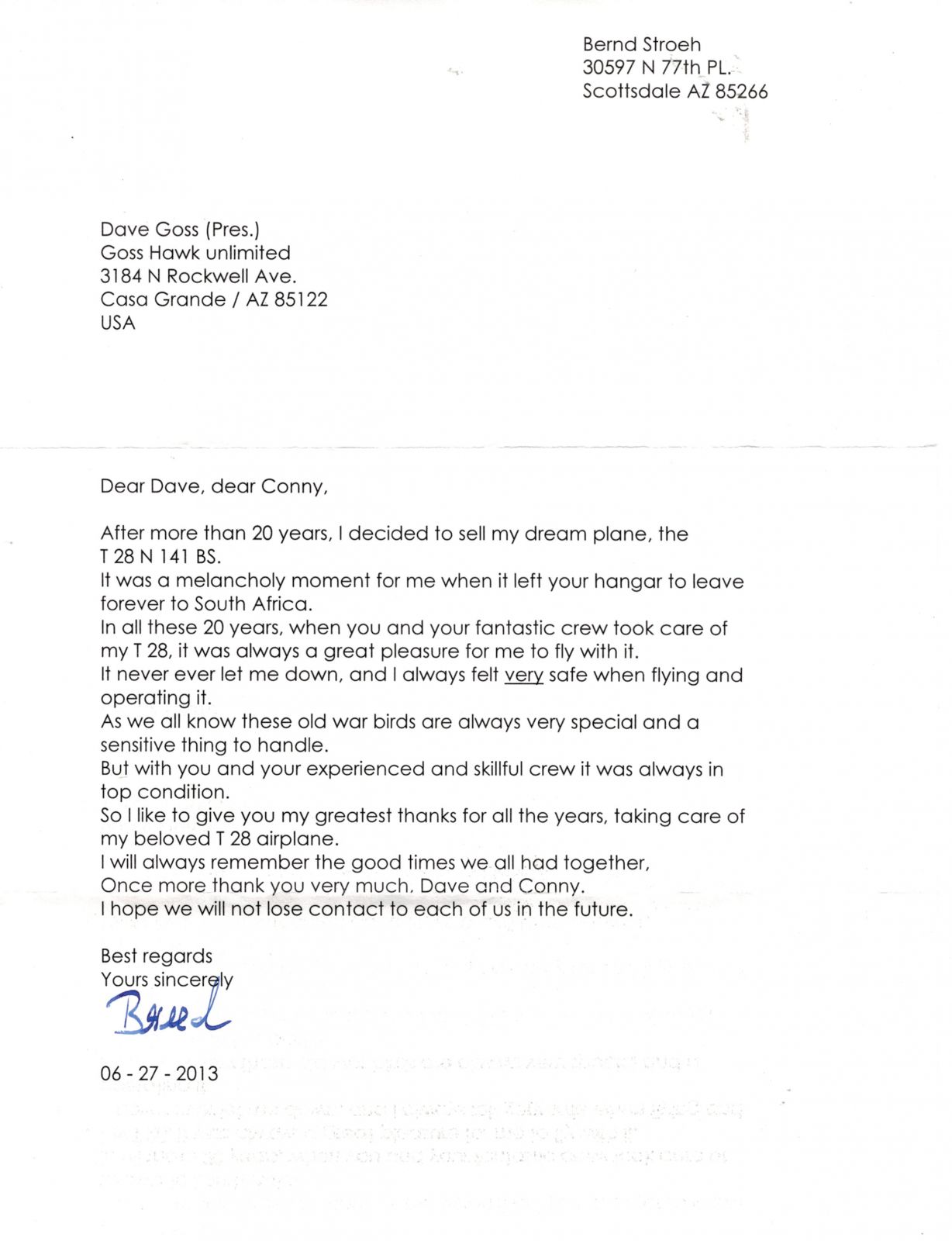 After more than 20 years, I decided to sell my dream plane, the T 28 N 141 BS.
It was a melancholy moment for me when it left your hangar to leave forever to South Africa.
In all these 20 years, when you and your fantastic crew took care of my T 28, it was always a great pleasure for me to fly with it.
It never ever let me down, and I always felt very safe when flying and operating it.
As we all know these old war birds are always very special and a sensitive thing to handle.
But with you and your experienced and skillful crew it was always in top condition.
So I like to give you my greatest thanks for all the years, taking care of my beloved T 28 airplane.
I will always remember the good times we all had together,
Once more thank you very much, Dave and Conny.
I hope we will not lose contact to each of us in the future.
Bernd Stroeh
Pilot and Warbird Owner | German Businessman